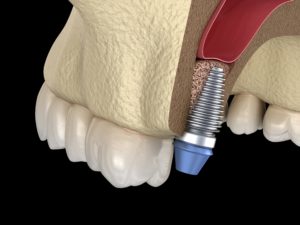 A dental implant is the most reliable method of replacing a lost tooth. As the only treatment to recreate both the root and crown, it offers over a 95% success rate and can last for 30 years or longer with the right care. The risk of implant failure is rare, but your dentist may recommend having it removed if certain complications arise, like bone loss or infection. Here's when removing a failed implant may be necessary. 
What Causes Dental Implant Failure?
The risk of dental implant failure is less than 5% and can be caused by multiple factors, including:
Failed Osseointegration
The overall success of the procedure relies on your jawbone fusing to the implant post through a process called osseointegration. If your bone doesn't integrate with the post correctly, the implant will fail shortly after the placement surgery. This can result from poor bone density, infections, or other complications during the healing process.
Peri-Implantitis
Late-term dental implant failure is often caused by an infection, called peri-implantitis. It results from bacteria found in plaque accumulations caused by improper oral hygiene habits. Initially, the infection can lead to redness, swelling, and pain near the implant post. Over time, it can destroy your oral structures, causing the implant to loosen and fall out.
How Is Dental Implant Failure Treated?
If you have any signs of dental implant failure, it's important to see a dentist right away. If you delay care, your dentist may not be able to save your new smile. They'll examine your mouth to determine the source of the problem, like an infection. Prompt treatment can stop the infection before it costs you your dental implant.
If bone loss is the source of the problem, the implant will probably need to be removed, which will involve oral surgery. Generally, implants in the lower jaw can be more difficult to extract than those on the top. Implants that have been in place for 24 months or longer can also require a little more work to remove from the bone. Don't worry, a local numbing agent or sedative will be used to keep you comfortable.
Every situation differs, but many patients can have a new implant placed after having the previous one removed. However, you may require bone grafting to ensure your jawbone can support the replacement. Your jaw must be healed from the grafting procedure before getting your new dental implant.
Safeguard Your Smile from Failure
You can ensure your investment lasts for decades by committing to your oral hygiene and visiting your dentist every 6 months. If you develop any concerns in between your routine appointments, don't wait to contact your dentist.
About Dr. Julia White
Dr. White earned her dental degree from the Medical College of Virginia and has completed extensive training in cosmetic dentistry, occlusion, and other complex procedures. She is a member of various professional organizations because of her career excellence. Contact our office today to request your consultation.