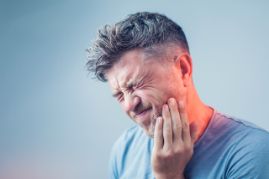 If you're like most people, you probably don't give your teeth a second thought – until there's a problem. In fact, if you've ever had tooth pain in Bedford, you know that it's all you can think about until you're out of pain! In many cases, a toothache will prevent you from eating or drinking normally, and even sleeping can be difficult if the pain is bad enough. But what causes a toothache to begin with – and how can it be treated? In this blog, you'll learn about the 3 most common reasons for a toothache, as well as prevention and treatment!
1. Cracked or Fractured Teeth
Many people only worry about cavities, but dentists treat a lot of cracked and fractured teeth as well. The only way to know for certain if a tooth is cracked is to have a dental exam, but one indication is feeling a sharp pain when you bite down on something.
What causes cracks and fractures? In general, they occur when chewing forces are too high, such as when chewing on things like ice, hard candies or popcorn kernels. Or nighttime clenching and grinding could be to blame as well.
To prevent cracks, avoid chewing on anything hard and wear a nightguard to protect your teeth if you clench and grind while sleeping.
2. Cavities
An estimated 90% of adults have had tooth decay at some point, so it's an incredibly common issue that people face.
Cavities are caused by acid that's produced in the mouth every time you take a bite or sip of something sugary. Just like acid rain wears away at marble and stone over time, acids in your mouth wear away at your enamel and can eventually result in a cavity.
If a cavity isn't treated when it's small, it can become large enough that it reaches the innermost layer of the tooth where the nerve resides. This results in a toothache and possibly an abscess or infection. Infections can become very dangerous if they're not treated early, so it's crucial to seek out care as soon as possible if you notice any swelling.
The best way to prevent cavities is to minimize sugary foods and beverages, brush at least twice a day with a fluoridated toothpaste and floss once. It's also important to see a dentist for checkups so they can catch cavities when they're smaller and easier to fix.
3. Broken Fillings
All dental work is subject to wear-and-tear and must be replaced at some point. If you have an older filling that needs to be replaced, it could break and expose the sensitive inner layers of your teeth.
It's important to get regular checkups and follow your dentist's recommendations for when to replace your older dental work. It's always much better to replace things on your schedule than to let your tooth decide for you!
How Are Toothaches Treated?
If a crack, cavity or broken filling is small enough, a dentist in Bedford may recommend a simple filling to treat it. Larger issues may need to be treated with a dental crown and possibly a root canal if the nerve of the tooth is involved.
Remember, since teeth are hard to come by, any efforts to save your natural teeth are well worth it. Not only will dental treatment get you out of pain fast, it will also save your tooth and enhance your oral health for many years to come!
About the Author
Dr. Ron Hendricksen is a general, cosmetic and restorative dentist in Bedford with decades of experience. He knows how sudden and alarming it can be to develop a toothache, so he's made it a priority to see any patient with a toothache as soon as possible. If you have any additional questions, he can be reached via his website or at (540) 587-5707.