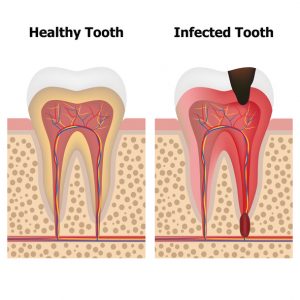 People cut corners all the time – eating unhealthy snacks on the go, drinking sugary energy drinks instead of sleeping enough, and not brushing and flossing as much as they should. In today's busy world, many men and women just don't have enough time to take care of themselves – and their teeth – properly. But, when you don't take good care of your teeth, it could lead to major health issues. Aside from long-term ramifications like heart disease, you could end up in your dentist's chair needing root canal therapy in Goode, all as a result of tooth decay. Fortunately for you, the team at Hendricksen Cosmetic & Family Dentistry have tips on how to prevent tooth decay and the need for a subsequent root canal.

How Does Tooth Decay Progress?
Tooth decay is the most common health condition. It occurs when bacteria that lives in the mouth mixes with sugars, starches, and left over food particles forming acid. This acid eventually eats away at the enamel of your teeth, causing decay. It also leads to infections and inflammation in the mouth. Although your saliva can eventually re-mineralize your teeth, drinking beverages that aren't water and eating snacks (especially sweets) prevent your mouth's natural lubrication from doing its job.
What Problems Can Tooth Decay Cause?
Tooth decay can lead to many dental health issues – cavities are by far the most well-known negative result of compromised enamel. While cavities may seem like they're not a big deal, they can eventually cause the pulp of your tooth to become inflamed and infected, resulting in a condition called pulpitis. Although some forms of this disease can be reversible, when irreversible pulpitis occurs, you'll need root canal therapy to address it. Pulpitis can be very painful, so, if you're experiencing pain, reach out to Hendricksen Cosmetic & Family Dentistry right away.
What Is Root Canal Therapy?
Root canal therapy is the gold standard for treating irreversible pulpitis. In this procedure, Dr. Hendricksen will numb the area surrounding the infected tooth, and then remove the infected tissue. The pulp will then be replaced by a biocompatible substance. At that point, a filling or crown will be placed over the tooth to make sure the area is protected. Root canal therapy won't hurt, since the pain you experience is caused by the infection in the pulp, not by the treatment itself – a root canal will actually cure the pain, contrary to popular myth.
How Can I Prevent The Need For Root Canal Therapy?
There are many things a patient can do to stave off the necessity of endodontic treatment (root canal therapy). Follow these suggestions from Dr. Hendricksen:
Remember 2×2 – Gently brush your teeth twice a day for two minutes. Floss twice a day, too – don't skip this crucial step, even if you're short on time.
Limit Sweet and Starchy Foods and Beverages – Since sweets and starchy foods make tooth decay inevitable, avoid these as much as possible. Switch to high-protein snacks, veggies, and dairy (cheese is great since it makes saliva more effective in re-mineralizing teeth). And, if you can, stop grazing altogether.
Professional Dental Care – See your family dentist in Goode at least twice a year for regular checkups and cleanings. An ounce of prevention is worth a pound of cure, as the saying goes, and rightfully so. Preventive dental care is a mainstay in limiting the effects of tooth decay and can help you avoid the need for root canal therapy.
Get your teeth on the right track by scheduling an appointment with Hendricksen Cosmetic & Family Dentistry today!