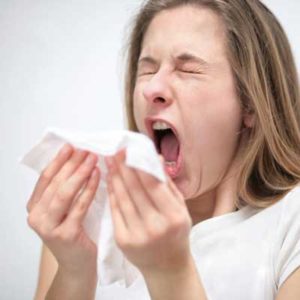 Spring is in the air, which means cool rain showers and plenty of blooming flowers. Unfortunately, it also means pollen, dander, and dust are also in the air. Allergy season is here. Not only can runny noses, itchy eyes, and sneezing affect your daily life, but it can also wreak havoc on your oral health. Here are common dental issues during allergy season and what you can do to safeguard your pearly whites.
Tooth Pain from Sinus Pressure
Do your teeth hurt when your allergies are bothering you? It can be caused by sinus pressure. Your maxillary sinuses are located on either side of your nose. Any swelling or irritation can affect surrounding tissues and structures, including your teeth.
Dry Mouth from Antihistamines
Many antihistamines used to treat allergy symptoms have dry mouth as a side effect. Your mouth is a hot spot for oral bacteria growth because it is dark and moist. If your mouth is too dry, it increases bacteria growth rate, enhancing your risk of bad breath, cavities, and gum disease.
Sore Throat from Post-Nasal Drip
Post-nasal drip is a common complication of allergies. As mucus from your nose runs down the back of your throat, it can become painful and irritated. Throat lozenges are the go-to solution to relieve the discomfort, but many contain sugar that can increase the risk of tooth decay.
Protect Your Smile from Allergy Season
You don't have to suffer through allergy season to keep your smile healthy. Here's how you can combat your symptoms while supporting a healthy smile:
Drink Plenty of Water: Drink at least eight 8-oz glasses of water each day to keep your body hydrated and your mouth moist.
Treat Nasal Congestion: Treat nasal congestion to make it easier to breathe through your nose while also reducing sinus pressure.
Gargle with Salt Water: Salt water can help ease sore or irritated throats. It is also a natural antiseptic to keep your mouth clean.
Don't Forget to Brush and Floss: Although you might feel a little under the weather, don't forget to brush your teeth twice daily and floss every night.
Manage Your Allergies: Use over-the-counter or prescribed medications to manage your allergy symptoms.
Visit Your Dentist: Visit your dentist for a semi-annual cleaning and checkup. They'll monitor your smile and provide advice to ensure allergy season doesn't harm your dental health.
You can enjoy every moment of spring and have one more reason to smile by committing to your dental health. Your allergies don't have to get in the way of feeling your best.
About Dr. Julie White
Dr. White earned her dental degree at the Medical College of Virginia and has regularly continued her education in advanced services, like cosmetic dentistry and occlusion. She is a proud member of many professional organizations, including the American Dental Association. Request an appointment through our website or call (540) 874-2164.