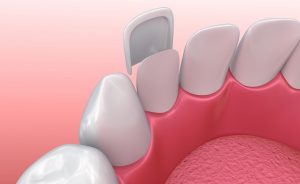 Are you dissatisfied with the appearance of your teeth? Now, you can drastically improve your smile using a minimally invasive procedure. With porcelain veneers in Goode, your cosmetic imperfections will instantly be hidden while your teeth become shapelier, more proportionate, and whiter. While they are effective, many remain hesitant to choose them because it does involve permanently altering your teeth. However, when compared to veneers of the past, more of the tooth's structure remains intact. Prior to making the commitment, Dr. Ronald Hendricksen understands that you are concerned with how long they will last. To promote their longevity, there are several things you can do.

What are Porcelain Veneers?
Porcelain veneers are thin shells that are bonded to the front side of the teeth to cover your imperfections, such as discoloration, chips, and cracks. In addition, they can often be used to make them appear straighter while improving their size and shape overall.
When compared to traditional veneers, the use of porcelain allows them to look natural while also being thinner. Their sleek design allows the procedure to be minimally invasive so less of the tooth's structure is removed during the bonding process. In just two appointments, you will completely transform your smile.
How Long Do Porcelain Veneers Last?
It is natural to be concerned about how long the veneers will last because you must remove a small amount of enamel during the bonding process. On average, they will last for about 10 years before needing to be replaced. Several advancements have been made to promote their durability. As a result, they last far longer than traditional veneers with the right aftercare.
How Can I Promote the Longevity of My Veneers?
After receiving your new smile from your cosmetic dentist in Goode, you can protect its beauty with the right dental hygiene habits and correct products. It is best to avoid using any that are abrasive, which can cause small abrasions to develop on their surface. Food particles and plaque can become trapped in the scratches, causing the veneers to lose their bright appearance. As a result, use a soft-bristled toothbrush and nonabrasive toothpaste to brush your teeth twice a day. Carefully floss your teeth each night.
Although the veneers are durable, they can break. Therefore, you will want to avoid any habits that can cause them to chip or crack, such as using the teeth as tools, chewing on ice, and eating overly hard foods. It is best to take extra care to protect them from damage if you play sports by wearing a mouthguard.
In addition, you will need to maintain your regular dental appointments. During your routine cleaning and checkup, Dr. Hendricksen will check your veneers to ensure they are not damaged and functioning as intended.
Where Can I Get a New Smile?
If you are ready to stop feeling insecure about your smile, it is time to call Hendricksen Cosmetic & Family Dentistry to schedule your consultation. Dr. Hendricksen will transform your teeth with a simple, yet effective procedure.