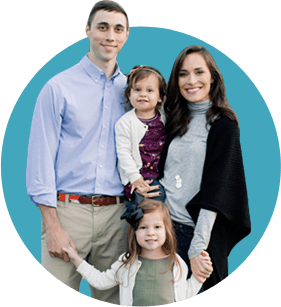 Dr. Hendricksen spent years establishing trusting relationships with members of our community. He helped our practice earn a solid reputation as a reliable dentist in Goode, and the practice's new owners, Drs. Brandon and Julia White, intend to continue that legacy. Would you like to learn more about the White Family? You can get to know the basics as you read the information below.
Background Information
Both of our doctors grew up in Virginia, but they knew nothing about each other until their mutual passion for oral health brought them together. They met while they were both attending dental school at the Medical College of Virginia through the Virginia Commonwealth University. They fell for each other and got married soon after graduation. Earlier this year, they purchased Dr. Hendricksen's practice with the vision of becoming Goode's local, trusted husband-and-wife dental team.
While they have enjoyed making some minor changes to the practice, all the big things have remained the same. That is to say, patients still experience top-tier care from a team who gives them personalized, empathetic attention. Our entire team takes great pride in our work and want patients of all ages to feel like our office is their dental "home away from home."
More About Dr. Brandon White
After he graduated from dental school, Dr. Brandon White completed a General Practice Residency in Hospital and Special Needs Dentistry at Carilion Clinic in Roanoke. He has a special place in his heart for disabled patients and those who have special needs, but he loves to meet new people of all sorts. Whether he is helping a child to smile bright or helping a mature adult regain dental function, he is proud to serve our local community.
More About Dr. Julia White
Just like her husband, Dr. Julia White is not content to rest on her laurels. That is why, after she earned her dental degree, she pursued continuing education in a number of areas, including occlusion, cosmetic dentistry, and the treatment of complex cases. In order to stay at the forefront of her profession, she maintains memberships in a number of prestigious organizations, including the American Dental Association, Virginia Dental Association, Lynchburg Dental Society, and SPEAR Education.
Beyond the Dental Office
Both of our doctors love to serve those in need. They have traveled to El Salvador on mission trips to serve the underprivileged population there.
Of course, family is paramount in their lives. They have two adorable daughters who keep them busy week in and week out. They enjoy going on family hikes and bike rides, as well as getting involved in activities at their local church.
Would You Like to Meet Them in Person?
Drs. Julia and Brandon White are eager to grow their practice and establish deep roots in the Goode community. They would love to get to know you! If the feeling is mutual, we invite you to contact our practice. Feel free to ask any questions you may have about our doctors, our services, or our policies. When you are ready to meet the White family and the rest of our team in person, we will be ready to greet you with big smiles and open arms.