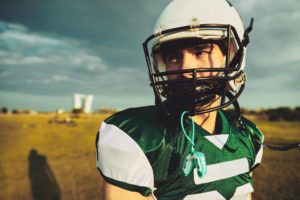 Are you an athlete? Whether you play a team sport like basketball or prefer going it alone on a skateboard, you are at risk of experiencing a dental emergency. According to the American Dental Assistants' Association, roughly 15 million Americans experience some type of sports-related dental injury each year. Here's a look at some of the most common oral injuries among athletes and how you can protect your mouth from unexpected trauma.
Top 3 Dental Injuries Among Athletes
1. Cracked Tooth
If you take a blow to the face from an opponent's elbow or a loose ball, you could end up with a cracked tooth. Some dental fractures are small enough that they are invisible to the naked eye. However, you may experience one or more of the following symptoms:
Sharp pain when you bite down
Intermittent tooth pain
Pain while eating and drinking (especially when consuming hot or cold foods)
A small crack can usually be treated with a simple dental crown. More severe fractures may require root canal therapy or even extraction.
2. Fractured Roots
Tooth injuries in sports are not limited to crown damage. Blows that land at a certain angle can also cause a fractured tooth root. Cracks that begin in the roots can eventually work their way up to the visible surface of teeth. Because these fractures are often invisible, you may only realize you have a dental injury when an infection develops. In general, the sooner a patient with a root fracture receives root canal therapy, the less likely they are to experience necrosis that leads to tooth loss.
3. Tooth Intrusion
Sports injuries that drive teeth back into the jawbone are known as "intrusions". This type of injury should be treated relatively quickly since the affected dental pulp usually becomes necrotic, which means it dies. Other complications related to tooth intrusions include:
Tooth pulp is damaged beyond recovery during the injury
Injured tooth root fuses to the nearby bone
Root resorption (shortening of the roots)
How to Prevent Dental Injuries When Playing Sports
As an athlete, having the right gear is essential to protecting your mouth and teeth. The American Dental Association recommends wearing custom mouthguards when playing basketball, football, ice hockey, lacrosse, soccer, and many other individual and team sports.
A typical mouthguard covers the top teeth and is designed to guard against cut lips, cracked or dislodged teeth, and other types of damage to the mouth. According to the National Youth Sports Safety Foundation (NYSSF), players who don't wear mouthguards are 60 times more likely to damage their teeth during competition.
Types of Mouthguards
There are three main types of protective mouthguards:
Stock mouthguards – Inexpensive and ready to wear right out of the package. Stock mouthguards may not fit as comfortably as alternatives.
Boil-and-bite mouthguards – With this type of guard, you boil a preformed piece of plastic and then bite into it for a customized fit.
Custom mouthguards – Specifically designed for your mouth by using an impression of your teeth. While custom mouthguards from a dentist are more expensive, they also provide the best fit and protection.
When it comes to protecting your jaw and teeth, a little bit of prevention goes a long way! Save your smile from injury and save yourself money by talking to your dentist today about getting a custom mouthguard.
About the Author
Dr. Julia White has almost a decade of experience helping patients in Goode, VA protect their smiles. She regularly creates custom mouthguards for athletes and can often accommodate same-day appointments for dental emergencies. To learn more about how to prevent dental emergencies when playing sports, visit the White Cosmetic & Family Dentistry website or call 540-587-5707.