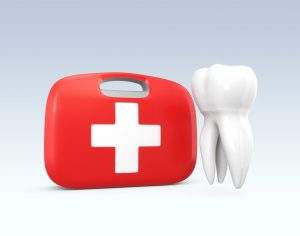 The fact that every hospital has an emergency room should tell you something about the need for urgent care. When you have an urgent medical need, it's nice to know there's an emergency room open 24/7. But what should you do in case of a dental emergency? Unfortunately, most hospital emergency rooms are not staffed or equipped to handle an urgent dental need. That's when you should call Goode same day emergency dentist Dr. Hendricksen. At Hendricksen Cosmetic & Family Dentistry, we are here to help you or a family member when you have any kind of dental emergency.
Plan for an Emergency
Everyone knows that the number to call in case of a medical emergency is 9-1-1. For a dental emergency, the number to have in your list of contacts is 540-874-2015. One of our staff will quickly access your emergency and determine if an appointment is needed immediately. For most emergencies, we can schedule a same day appointment.
What to Do for Different Dental Emergencies
Until you can get to the office of Goode same day emergency dentist Dr. Hendricksen, knowing what to do in different situations can be helpful and comforting. Here are some tips on what you should do for some of the most common dental emergencies.
Toothache. A toothache is probably the emergency that is called in to our office most often. If there is pressure, then you may have something stuck between two teeth. In this case, try flossing to remove the debris. However, if the pain is severe, then this may be a sign of tooth infection. Call our office immediately to schedule an appointment, so Dr. Hendricksen can evaluate and determine if root canal therapy or another treatment is necessary.
Knocked Out Tooth. Probably the most upsetting and frightening dental emergency is a knocked out tooth. If you have the tooth, then reattachment may be possible if you are seen shortly after the accident. In the meantime, be sure to touch only the crown of the tooth and avoid the root where tissue may still be attached. Rinse the tooth in water and place it back in its socket if possible. In case of excessive bleeding, transport the tooth in a sealed container filled with milk and get to our office as quickly as possible.
Broken Tooth. Wash your mouth with lukewarm water. If you have the broken portion of tooth, then store it in milk. To relieve swelling if the break happened as a result of a facial blow, you can apply a cold compress. Acetaminophen or ibuprofen will help alleviate the pain.
Contact Goode Same Day Emergency Dentist
For any kind of dental emergency, call the office of Hendricksen Cosmetic & Family Dentistry. Dr. Hendricksen is the "dentist near me" who is ready to help restore your healthy and beautiful smile.