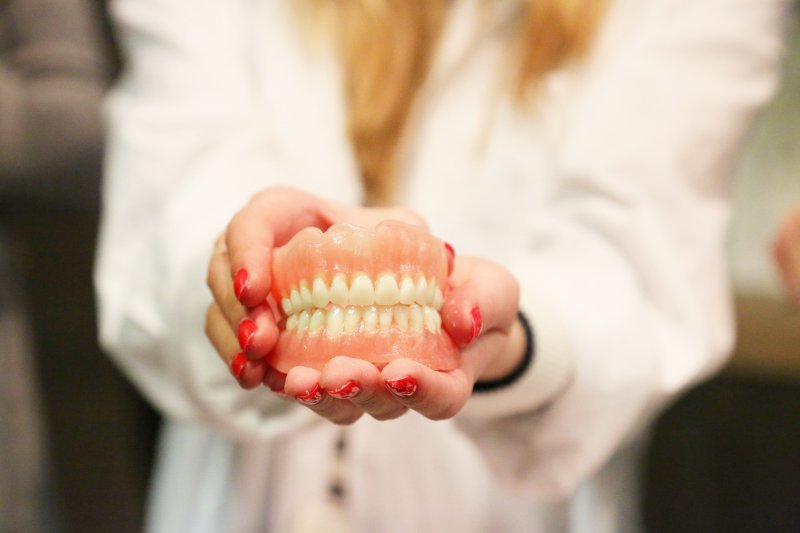 Are you missing teeth and want a good way to replace them? If so, then dentures might be the right option for you! Not only are they a convenient treatment, but they provide your teeth and gums the support they need to stay healthy. But how long does it take to get them? Read on to learn what you can expect from the dentures process!
The Early Stages for Dentures
After arriving at your dental appointment, your dentist will examine your teeth and gums to confirm they're in good condition. They'll then create impressions of the ridge of your mouth, measuring the bite pattern so that it matches yours. This might include a wax prototype of the dentures to be sure they'll fit you properly. The model will then be sent to a lab for construction.
Dentures Adjustment Period
Until you receive the complete dentures, you'll frequently visit your dentist for adjustments on your prototype. Whenever there are missing teeth, the facial structure can begin to change and even shrink in that area of the jaw. This can also happen with if your dentures don't fit accurately. For this reason, your dentist will want to make certain your dentures will have the right width and length for your features.
Final Steps for Dentures
Once your completed dentures arrive, your dentist will make any necessary adjustments before placing them in your mouth. It may take some time to grow accustomed to them, and if you're experiencing any issues, it's always the right time to inform your dentist. However, this isn't the end of the denture process, as you'll need to continue regularly seeing your doctor so they can monitor your progress.
Possible Teeth Extraction
While the denture process can take several visits to complete, it can be longer if you require teeth removal. Should you need extractions, the sites will need time to recover, which can take several months. Afterwards, your dentist can start making your first impressions.
Though you'll have scheduled visits to ensure your dentures fit properly, you can enjoy your daily life having your fully restored smile again! And if you have any concerns along the way, your dentist can always help you stay on track with great dental health.
About the Authors
Drs. Brandon and Julia White are a husband-and-wife team who offer passionate and high-quality dental services. With their combined expertise, they provide numerous dental treatments, including dentures and regular checkups. If you want to know more about the denture process, visit their website or call 540-587-5707.