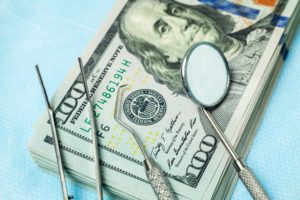 Your teeth can last for a lifetime with the right care over the years. You might think your toothbrush and floss are enough to keep your smile healthy, but the American Dental Association recommends everyone over the age of 2 visits their dentist at least twice a year for a cleaning and checkup. Unfortunately, 42% of Americans don't see a dentist often enough. Although there are various reasons people delay their appointments, it's often because they don't have insurance. In fact, 37 million people in the United States don't have the dental coverage they need. Don't have insurance? No problem! You can still see a dentist with no insurance when choosing White Cosmetic & Family Dentistry. We will help you get the services you need without breaking the bank.
Invest in a Healthy Smile
Many people delay routine dental appointments because they feel it's an unnecessary expense. Instead, they wait to see their dentist until after an issue develops. Although this may seem like the affordable solution, it actually increases your dental expenses. In fact, research shows every $1 spent on prevention can lower your emergency and restorative dentistry costs by as much as $50. You will stop preventable issues from occurring in the first place, like tooth decay and gum disease. This lessens the likeliness for needing a costly treatment down the road.
Enjoy Affordable Dental Care
If you have dental coverage, most insurance carriers cover the cost of 1-2 preventive appointments per year. If you don't have insurance, you might think you can't afford to have a cleaning or checkup, but there are several options to keep your care within your budget.
Our office accepts various payment options. Besides cash, check, and credit care, we also work with CareCredit. The third-party financing company allows you to get the care you need without worrying about the cost. You are given the funds to pay for your treatment, which you will repay using a payment plan that accommodates your budget. With 6 to 60-month promotional financing, you won't even need to worry about the added cost of interest.
Get the Healthy Smile You Deserve
If you've been putting off your dental care because you can't afford a large bill, you don't need to wait any longer. Our team at White Cosmetic & Family Dentistry believes everyone should have access to comprehensive dental services without any added financial burden. We work with many leading insurance carriers to maximize annual benefits to reduce out-of-pocket expenses; however, if you don't have coverage, you can still get affordable services. We will explain your payment options to help you find the solutions you need to invest in a healthy, beautiful smile.
About Dr. Julia White
For over a decade, Dr. Julia White has helped families in the area achieve radiant smiles. She offers the advanced solutions patients need while keeping them affordable. No matter if you need general dentistry or specialty services, you can get state-of-the-art services. Contact our office today to schedule an appointment.