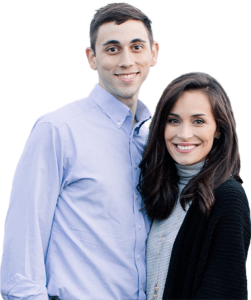 Dr. Ron Hendrickson has proudly taken care of his patients' smiles since 1973. Throughout his time in Bedford County, he has established strong relationships within our community. Through expert care and a compassionate touch, he has truly earned his reputation as an excellent dentist. Now, however, it is time to pass the torch. Dr. Hendrickson and his wife Dottie and pleased to welcome Drs. Julia and Brandon White as the new owners of our practice. Would you like to get to know them a little better? As you learn about their background and their dedication to providing excellent oral healthcare, you'll become confident in their ability to serve as your trusted dentist near Bedford.
Drs. Julia and Brandon's Background
Both Drs. Julia and Brandon White are Virginia natives, but they grew up on opposite sides of the state. Before they fell in love with each other, they fell in love with dentistry. In fact, they met when they were both attending dental school at the Medical College of Virginia through the Virginia Commonwealth University. Shortly after graduation, they got married. Today, they have a happy family that includes two young daughters.
Dr. Brandon began his career in hospital dentistry, focusing on caring for special needs and disabled patients. He also has also helped many children to achieve better oral health through his kind touch and skilled care. While he was refining his skills in a hospital setting, Dr. Julia embarked on a journey in private practice. Throughout the past six years, she has completed continuing education in cosmetic and aesthetic dentistry, occlusion, and treatment for complex dentition.
Recently, Drs. Julia and Brandon joined Dr. Hendrickson's practice together. They look forward to serving the families in Goode and the surrounding areas.
An Exciting Future
Drs. Julia and Brandon joined our practice, not with the intention of making radical changes, but with the goal of continuing Dr. Hendrickson's legacy. They love the close-knit atmosphere in a small-town practice, and they want to earn the same trust that you have placed in Dr. Hendrickson throughout the decades. When you continue to use our practice as your family dentist near Bedford, you may notice a few small changes here and there, but the big things will remain the same. You'll still receive a warm welcome from a familiar face (all of our staff members are staying with the practice), and you'll still leave your appointments with a happier, healthier smile.
You'll also still be able to depend on us for a broad range of dental services. We're eager to receive patients who just need routine preventive care, but our doctors don't shy away from taking on complex cases either. Whether you need a crown, a filling, or extensive tooth replacement, our team can help you reach your oral health goals. You can also rely on us to correct cosmetic flaws in your teeth so you can confidently show your smile to the world.
If you haven't personally had the opportunity to meet Drs. Julia and Brandon White, we invite you to come and say hello! To learn more about our practice's new owners or to schedule your next appointment, contact our office at 540-587-5707.