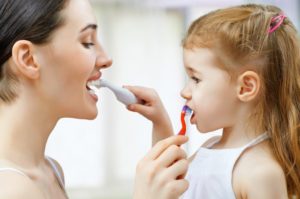 There are many ways to ensure that your child's early oral development goes as smoothly as possible. In the past, you may have heard your friends or family members give advice, but your dentist in Bedford has a great idea for preventing cavities in children: regular mouthwash use.
At first you may be hesitant, but if your child is above the age of eight, there's no reason not to introduce them to benefits of mouthwash. To celebrate Children's Dental Health Month, your dentist in Bedford is prepared to make this addition to their oral care easier than ever. They can protect their teeth as they grow and practice their brushing technique without worry. Here are the most important things to consider when buying mouthwash for your child.
Why to Avoid Alcohol-Based Mouthwashes
Growing up, you were probably familiar with the mouthwash your parents would use. These therapeutic rinses were most likely alcohol-based that harshly burned on contact. While these were great for killing bacteria and making breath smell minty fresh, they have their drawbacks.
Not only would it be very difficult to get your child to use alcohol-based mouthwash, it would also be dangerous. Your child can accidentally swallow it, causing unintended side effects and making them sick. Furthermore, alcohol-based mouthwash dries out the mouth, which creates a breeding ground for germs. According to your dentist in Bedford, you should opt for a fluoride mouthwash instead.
The Safest Mouthwash for Your Child
Fluoride mouthwash offers all the benefits of traditional mouthwash without the burn or dry mouth that comes with it. Since it contains fluoride, it works to prevent tooth decay and gum disease. Children are especially vulnerable to tooth decay at a young age, so using mouthwash can aid in their protection.
Fluoride mouthwash works by strengthening your child's current tooth enamel and providing a shield against acids caused by oral bacteria. This will act as a second line of defense as they perfect their brushing technique. Before you give them mouthwash, make sure to practice with other liquids first to prevent them from swallowing the real thing.
How to Practice Using Mouthwash
Before giving your child fluoridated mouthwash, give them a small cup of water to practice with first. Check the label on your purchased mouthwash and see how much is needed to provide a thorough cleaning. This is typically about 20 ml or about four teaspoons.
After your child sips the water, set a timer for one minute. Once you start the timer, say "Go!" and have them move the water around their mouth. Instead of spitting the water into the sink, ask them to spit back into a cup so you can measure how much water they may have swallowed. Once they've proven they can rinse without swallowing, give them the real thing and supervise them until you're both confident.
Want more tips on using mouthwash with your child? Schedule an appointment with your family dentist in Bedford today!
About the Author
Dr. Ron Hendricksen first attended the Medical College of Virginia School of Dentistry before serving in the U.S. Army Dental Corps. Since opening his practice, he's become a member of the ADA, the Virginia Dental Association, and the American Academy of General Dentistry. To learn more about his practice dental cleaning in Bedford, contact him at (540) 587-5707 or visit his website.