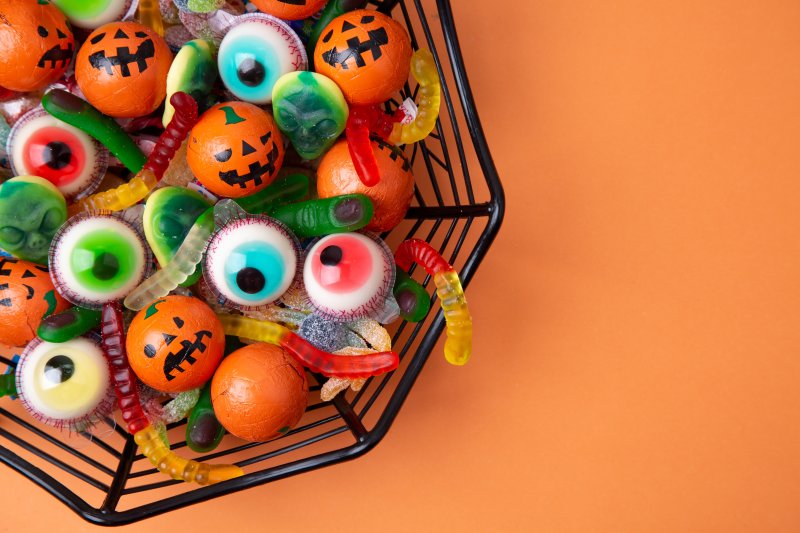 Halloween is a time for dressing up and scaring your friends and family, but it also kicks off a season of extreme sugar consumption. While enjoying a few sweet treats in moderation is fine, you must remember that it doesn't take much to start the process of developing tooth decay. In order to prevent this from happening to your child, your dentist shares ways to protect their teeth during this spooky and exciting holiday.
How to Take Care of Your Child's Teeth
With so many monsters out on Halloween night, you want to make sure those that can harm your child's teeth and gums don't make an appearance. In order to keep tooth decay away, try following some of these tips:
Allow your child to have chocolate more than sticky candies. The reason is that gummy, sticky treats can stay on the teeth longer, increasing the risk of tooth decay.
Moderation is key. Don't let your child eat candy every day. Offer it as a special treat.
After eating a piece of candy, make sure they brush their teeth thoroughly, especially before they go to bed.
Look for healthy candy alternatives to give out such as popcorn, granola bars, cheese sticks
Why Regular Dental Checkups and Cleanings Are Important
The holidays are the ideal time to schedule your child's regular dental appointment. Why? Because your children's dentist can effectively remove any plaque and tartar build up before it becomes a serious problem. With so much sugar being consumed, it's best to allow your child's dentist the opportunity to perform an examination and make sure no current problems exist.
It's also a great way to protect their teeth even further against tooth decay by having the dentist place dental sealants on your child's back teeth, in addition to receiving fluoride treatments to strengthen tooth enamel.
Should your little one experience a toothache as a result of decay, make sure to call the dentist's office as soon as possible. The staff can survey the situation based on your provided information and walk you through the steps you need to take until you can see a dental professional.
Don't let this sugar-filled time of year cause you to be frightened. Embrace the fun that Halloween offers but be mindful of how much your child is eating. By taking a few additional steps to protect their teeth from tooth decay, you'll both be able to enjoy a few sweet treats this holiday season.
About the Author
Dr. Brandon White earned his Bachelor of Science degree in Economics from North Carolina State University before going on to pursue a Doctor of Dental Surgery degree at the Medical College of Virginia. He and Dr. Julia White are a husband-and-wife team who offer top-notch dental care to residents in Goode and surrounding communities. From children to adults, they can take care of all your family's dental needs, ensuring a comfortable and positive experience every time. To learn more about the White's and the services offered, visit our website or call (540) 587-5707.