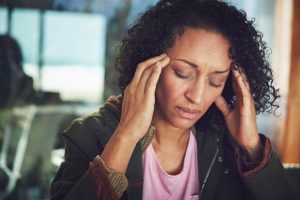 Oh my aching head! How many times have you said that to yourself? If you suffer from persistent headaches or migraines, then the solution may be in your mouth. The American Gut Project recently conducted a study that points to a connection between oral bacteria and migraines. Read on to find out more about this research and how your dentist in Bedford, VA, Dr. Hendricksen, can help prevent your headaches.
What's the Link between Oral Bacteria and Headaches?
Research findings from the American Gut Project found that high levels of certain bacteria that live in your mouth and gut can cause nitrates in food to produce nitric acids, which can lead to headaches. Does this mean that you must alter your diet and stop eating a number of different foods? No. Instead, Dr. Hendricksen and his staff can provide services to help reduce the level of oral bacteria.
Migraines and Nitrite
At the University of San Diego School of Medicine, researchers discovered than people who suffer migraines often have an increased amount of nitrate-reducing bacteria in their mouth. Foods high in nitrates—chocolate, wine and bacon—combined with poor brushing and flossing may heighten the number of nitrate-reducing bacteria and thereby lead to headaches. How? These bacteria change nitrates in foods to nitrite, which causes blood vessels in the body to dilate. As a result, blood flow increases and migraine headaches are more likely because of vascular instability. Thus, poor oral hygiene that fails to reduce the number of nitrate-reducing bacteria may be the root cause of migraines.
Proper Oral Hygiene at Home
To maintain the proper balance of oral bacteria, you must practice effective oral hygiene care with twice daily brushing and flossing at least once every day. Be sure to use a soft toothbrush and fluoride toothpaste, which can help to strengthen tooth enamel for battle against cavities—another consequence of too much bad oral bacteria.
Also, floss between your teeth to remove plaque, that clear and sticky film you can sometimes feel when you run your tongue over your teeth. Plaque harbors bacteria, too, so flossing is an essential part of your at-home oral hygiene routine.
Dental Checkups with Your Bedford Dentist
Finally, twice yearly dental cleanings and exams are also needed. The hygienist will clean your teeth and remove any bits of tartar, which is calcified plaque. During the exam, the dentist in Bedford will assess your dental and periodontal health and offer more good ideas on how your can control oral bacteria in order to have a healthy smile and reduce the occurrence of migraines.
Contact Our Office Today
Dr. Hendricksen would be glad to further discuss how your oral health impacts your overall health. Call our office to schedule an appointment.