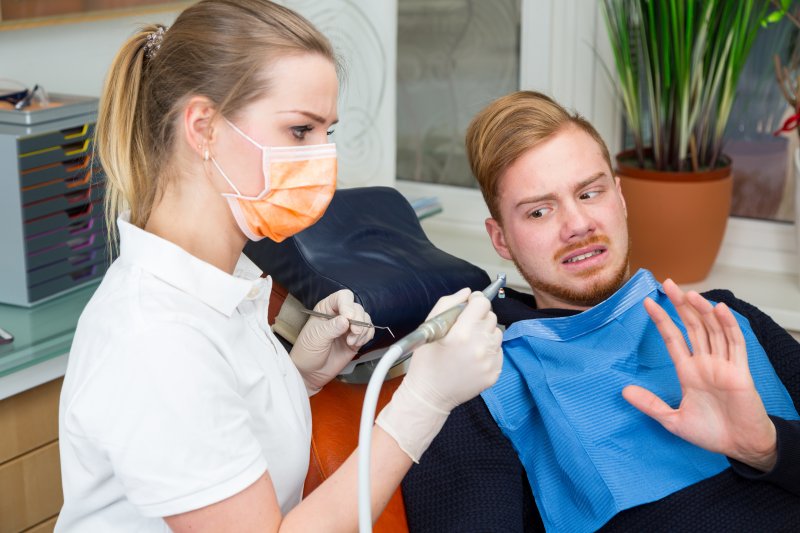 Dental fear can make it nearly impossible to visit the dentist and receive the care you need. Getting preventive treatments and having existing issues taken care of promptly raises your chances of having a beautiful smile. If you're struggling with dental fear in Goode, read on to learn more about common reasons why people are scared of the dentist and why there's nothing to fear.
6 Reasons Why People Avoid Going to the Dentist
Dental fear can be caused by a variety of factors, but a few of the most common ones are:
Not having dental insurance or enough money to cover the cost of treatment
No discomfort, pain, sensitivity, or other symptoms of oral health issues
A fear of the unfamiliar tools, noises, or needles in the dentist's office
Forgetting or neglecting to schedule biannual appointments
Embarrassment about the state of one's oral health
Unpleasant past experiences at the dentist's office
Why You Need Regular Dental Checkups
Visiting your dentist on a regular basis will allow them to help you avoid an array of oral health issues. No matter how diligent you are about brushing and flossing, parts of the mouth are difficult to reach without professional help. When you visit your dentist for your biannual checkups, your teeth will be thoroughly cleaned to remove plaque and tartar buildup and discourage cavities from forming. They will also take X-rays so they can see what's happening beneath the surface. This allows them to diagnose issues that may be otherwise undetectable.
Additionally, doing a head, neck, and lymph node check will let them look for any swelling, lumps, or other abnormalities that may be signs of major health issues. Checking for signs of gum disease and oral cancer are other ways for them to identify and treat these issues before they become more serious.
3 Reasons Why the Dentist is Nothing to Fear
Visiting the dentist can be scary, but regular checkups and exams are essential to maintaining a healthy smile. Some reasons why you shouldn't be afraid of the dentist include:
They will do what they can to make treatment more comfortable
The sooner you get help, the more treatable issues will be
The right dentist will make unpleasant past experiences a distant memory
As you can see, visiting the dentist for regular appointments is an important part of maintaining good oral health. Learning how to overcome dental fear will let you receive the treatment you need promptly so you can keep your teeth healthy and happy!
About the Practice
White Cosmetic & Family Dentistry knows that needs vary from patient to patient, and there's no one-size-fits-all treatment. That's why they provide high-quality, convenient, and easily accessible dental for patients of all ages. Additionally, their talented, compassionate team will do what they can to help you overcome dental fear and feel safe and calm throughout your appointments. If you're ready to schedule a consultation or want more information about how to overcome dental fear, visit White Cosmetic & Family Dentistry's website or call their office at (540) 587-5707.