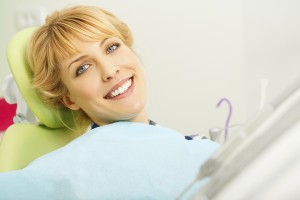 You don't have to be from Goode, VA, to take advantage of the superior dental services offered by Dr. Ron Hendricksen. People from nearby communities such as Bedford, VA, come to our office, too. Dr. Hendricksen and his staff of dental hygienists and dental assistants want your smile to be healthy and radiant. With this in mind, we'd like to see you this spring for a dental cleaning that will give you a summer-ready smile!
Dental Cleaning
The American Dental Association recommends that everyone young and old have a least two dental cleanings each year. At these regularly scheduled visits, one of our skilled hygienists will thoroughly clean all the surfaces of your teeth, reaching spots that are difficult to brush on your own. These professional cleanings remove plaque—that sticky film where the bacteria that cause tooth decay and gum disease hide—and stains on the enamel surface of teeth that might otherwise cause discoloration.
Dental Exam
Along with your dental cleaning is an examination of your teeth and gums. We're looking for the early warning signs of dental and oral problems. For example, Dr. Hendricksen will visually examine your teeth and probe for small soft spots that are indicative of a developing cavity. Once a year, we'll also take digital x-rays in order to find decay that we can't see below the surface or between teeth.
To make sure your gums are healthy, we will probe and chart the small pockets that surround teeth. Healthy gums have pockets that are no more than four millimeters deep. Pockets that are deeper can be a sign of periodontal disease, a bacterial infection that affects the gum and connective tissue that hold your teeth in place.
Your exam will also include a screening for oral cancer. Every year, some 9,500 Americans die of this disease that is highly treatable and curable when caught early. Your 24523 dentist carefully examines your oral cavity and lips for warning signs that include a sore that hasn't healed; a swollen area in or on any soft tissue; a smooth or scaly patch of tissue; and an area that feels numb. We'll also gently palpate your jaw, neck and throat.
Call Today for a Dental Cleaning in Bedford, VA
If you or a family member is due to see the dentist for a dental cleaning and exam, then call the office of Dr. Ron Hendricksen in Goode, VA. We look forward to refreshing your smile with a spring-cleaning!