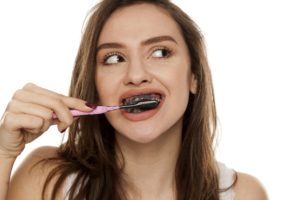 If you want to save money, you have likely tried a variety of DIY projects. There are a plethora of videos and how-to guides online, from home renovations and beauty hacks to teeth whitening techniques. While some do-it-yourself projects can be effective, when it comes to your teeth and gums, it's best to leave it to the professionals. Despite trending home remedies for DIY teeth whitening, your dentist advises against them. Here are 4 home whitening methods that claim to be safe but have hidden dangers for your smile.
1. Charcoal Products
You've probably watched videos on social media featuring charcoal toothpastes and other products to treat stains and discoloration. Activated charcoal is said to remove impurities from your teeth to brighten your smile. Although they may seem effective, the products are abrasive, which means they can strip away your enamel. Once the hard outer layer of your tooth is gone, it will not grow back. You'll have an increased risk of tooth sensitivity, decay, and even discoloration.
2. Baking Soda
Many toothpastes available in drugstores contain bicarbonate of soda, better known as baking soda. It's not uncommon for people to create their own baking soda toothpastes at home to reverse tooth discoloration; however, they are also abrasive. Regularly treating your teeth with baking soda will weaken your enamel and leave your smile vulnerable to complications, like decay.
3. OTC Bleaching Kits
There are countless whitening and bleaching kits you can purchase, but none are approved by the American Dental Association. While they may seem convenient and affordable, they can lead to costly dental problems if they aren't used correctly. Not to mention, if you use the whitening products and have any untreated dental issues, like cavities, you can cause permanent damage to your teeth.
4. Lemon Juice
Lemon juice and other citrus-based solutions can whiten your teeth; however, you're essentially applying acid to your enamel. The natural approach may provide temporary results, but the acids will remove the outer layer of your teeth.
Achieve a White Smile Safely
If you're ready to restore a bright smile, skip risky DIY methods. Instead, turn to the professionals. Your cosmetic dentist will perform a comprehensive evaluation to ensure your teeth and gums are healthy before creating a personalized treatment plan. They use safe and effective products that can get your teeth as much as 8 shades whiter without causing any harm to your enamel. Unlike DIY techniques, your results can last for several years with the right aftercare. You can achieve drastic improvement without worrying about any potential complications down the road.
About Dr. Julia White
Dr. White earned her dental degree at the Medical College of Virginia and regularly continues her training to focus on cosmetic dentistry. As an active member of various dental organizations, including SPEAR Education, she has the qualifications and experience you can trust. If you're ready to revitalize your smile, contact our office today to schedule your consultation with a dentist who's passionate about helping her patients.