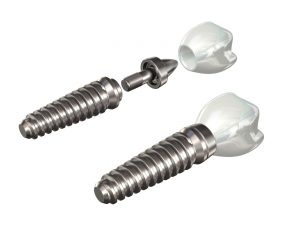 If you are interested in replacing your missing teeth with dental implants, you are making a very smart decision. Offering over a 95 percent success rate, dental implants have become the most preferred and recommended form of tooth replacement. As a result, more than 3 million dental implants have already been placed. In addition, that number is expected to increase annually by 500,000. To achieve the benefits of dental implants and a complete smile, you will need to find a dentist who offers dental implants in Goode. Since the success of the implants largely relies on who performs the procedures, you need to ensure you make a smart decision. As your family dentist in Goode, Dr. Ron Hendricksen is here to help you find the best implant dentist.

Are You a Candidate?
The first step to receiving dental implants involves determining if you are a candidate for dental implants. You will need a dentist who is able to perform the comprehensive examination to determine whether or not implants are right for you. While just about everyone with tooth loss and healthy gums can receive dental implants, there are various factors that may prevent you from receiving the implants. You need a dentist who understands how certain risk factors may increase your risk for implant failure. Dr. Hendricksen is specially trained to determine if dental implants are right for you. He will perform the necessary examinations to create a treatment plan that is customized to your specific needs and oral health.
Finding a Dentist for Implant Placement
When it comes to finding a dentist for implant placement, you cannot just choose anyone. Since the process to properly place the implants requires a great deal of accuracy and precision during the surgical process, it is best to use an oral surgeon. However, finding an oral surgeon you can trust can be a challenge.
Dr. Hendricksen has an extensive network of trusted, high-quality dental professionals. As a result, he is able to recommend the best and most trusted specialist to perform the implant placement.
Finding a Dentist for Restoration
Once your implants have been placed and your jawbone has healed, you will need to undergo the restoration process. Not all dentists are trained to perform the restoration process. As a result, if you do not choose the right dentist, you may have to be referred to another dental office for the restoration phase. Thankfully, Dr. Hendricksen is specially trained to perform implant restorations.
Dr. Hendricksen has been in practice since 1973 after graduating from the Medical College of Virginia-School of Dentistry. Through his lifelong commitment to dental excellence, he has achieved various accreditations with multiple dental organizations, including the American Academy of Cosmetic Dentistry, Lynchburg Dental Society, and Piedmont Dental Society. His mission for dental excellence through continued education allows him to offer his patients dental implant restorations.
Your Dentist for Dental Implants
Receiving dental implants can be a stressful and somewhat frightening experience. Put your worries to ease by choosing a trusted and qualified dentist. Let Dr. Hendricksen help you gain a complete smile with dental implants.