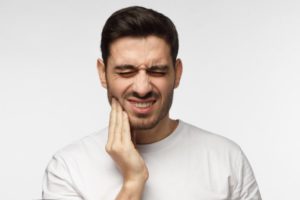 Have you ever chipped a tooth? If you haven't, you're lucky! Chipped teeth are a common dental injury that can occur from sports, a simple fall, or even plain old eating. Some fractures can be painful, while others you may not even be able to feel. Either way, chipped teeth tend to cause panic, so it's important you know what to do in case of a dental disaster. Keep reading to learn the best steps you can take after chipping a tooth and the treatments you may need from your emergency dentist.
Don't Panic with These Tips
If you chip a tooth, it's important to see your dentist as soon as possible. In the meantime, you can set yourself up for success by following these steps:
Call your dentist immediately to request an appointment.
Cover any sharp or rough parts of your tooth with dental wax or even sugarless gum.
Rinse your mouth with warm water and use a cold compress to reduce swelling.
Stay away from extremely hot or cold foods because they cause sensitivity.
Only eat soft foods and avoid chewing on the side of your mouth where the chip occurred.
If you're in pain, take over the counter medication like ibuprofen until you can see your dentist.
The Treatments You May Need
If you chip or fracture a tooth, your dentist may recommend these popular treatments:
Dental Filling or Bonding
If you have a minor chip or dental fracture, your dentist can use a tooth-colored composite resin to repair your teeth. This can be done cosmetically in the form of dental bonding, or the same material can be used to fill teeth while maintaining their natural appearance.
Porcelain Veneers
If your enamel is too damaged for bonding, porcelain veneers can conceal numerous chips, cracks, and flaws. These thin shells of dental porcelain are designed to bond to the front surfaces of your teeth, erasing imperfections in your smile.
Dental Crowns
If a large portion of your tooth has broken off, there are multiple fractures, or a significant crack, your dentist may recommend a dental crown. This custom-made restoration caps the entire visible portion of your tooth, strengthening weakened teeth while also protecting them in the future.
Root Canal Therapy
If your tooth has a severe crack that affects the sensitive inner portion, you may need a root canal. This procedure saves your tooth by removing the damaged and infected tissue. After, your dentist will fill your tooth with a strong biocompatible material, and you'll typically need a dental crown to protect it down the road.
Now that you know what to do if you chip a tooth, no need to worry! Remember these tips in the event of a dental emergency.
About the Practice
At Hendricksen and White Cosmetic & Family Dentistry, we have an experienced team and advanced technology to provide our patients with the best restorations available. If you have any questions, we can be reached through our website or by phone at (540) 587-5707.