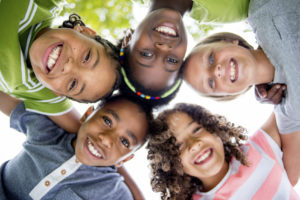 Hallelujah! The kids are headed back to school! The summer was great, but let's be real–everyone needs a routine.
Speaking of routine—there are some routine steps parents should take to ensure that their children enjoy healthy and beautiful smiles throughout the school year. Read on to learn about these important steps.
See the Dentist Before the Bell Rings
Now is the perfect time to schedule a dental checkup for your children. The dentist will examine each one of their teeth, assess the health of their gums and, of course, provide a professional cleaning.
These regular visits are more important that you might think. In fact, the American Dental Association believes twice-yearly checkups are as vital to children's health as immunizations.
Did you know that tooth decay is the most common childhood infectious disease?
That's right. And the consequence of untreated decay is not just other dental problems. Unfortunately, a cavity that is not filled in a timely manner can become so painful that a child may be unable to concentrate on what's going on in the classroom. Moreover, decay can spread to other teeth as well as to surrounding soft and bone tissue. The resulting infection can be serious.
Be Sure to Brush and Floss at Home
In between dental checkups, oversee your children's good oral hygiene care at home. This means taking the time to brush and floss effectively.
Things can get rushed in the morning as everyone tries to get out the door for school. And at night, bedtime can be, well, a challenge with little ones. ("Please, Mom, five more minutes!") Nevertheless, everyone needs to spend at least two minutes brushing their teeth and then finish up with flossing to remove particles of food and plaque that may be trapped between teeth and along the gum line.
When you're buying school supplies, let your kids pick out a new toothbrush and their favorite flavor of ADA-approved toothpaste.
Pack Tasty and Healthy Lunches and Snacks
Ask a child what his or her favorite subject is and the answer may be, "Lunch!" Help your children make healthy food choices whether they bring or buy. What they eat during the day not only fuels their ability to learn and be active, but also helps their smiles stay strong, healthy and beautiful.
Here are some extra tips for what to buy and what not to buy:
Buy whole grain breads instead of white bread.
Offer lean meats, fish and cheeses. Lunches should also include fresh fruits and vegetables, yogurt and cottage cheese.
For snacks, you can give them carrot sticks and hummus, sliced apples and peanut butter or a hard-boiled egg.
Don't wait for the bell to ring! Call your dentist today to schedule dental checkups for the kids.
Meet the Doctor
Dr. Ron Hendricksen is a family dentist near Bedford, VA in Goode. He and his staff provide preventive, cosmetic and restorative dentistry to many families throughout the area.