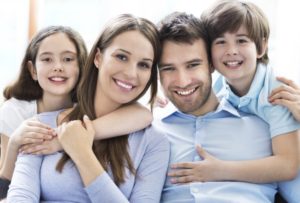 Dentistry is necessary, but it is not inexpensive. No one knows that better than your dentist, which is why many accept dental insurance. In Bedford, you need to find a Delta Dental dentist and an Anthem dentist. These are two popular dental insurance providers in the area, and when you choose a dentist that is in-network, you'll be able to give your family needed dental care at a price you can afford.
Facts and Figures on Dental Insurance
It's all about the numbers. Well, here are some very interesting numbers for you to consider. According to The American Dental Association, Americans who have dental insurance receive $323 worth of dental treatment on average in a year. Dental insurance plans, however, typically offer coverage for up to $1,250. This means that $927 is not being used. Multiply $927 by the 164 million people who carry dental insurance and you get a whopping $152 billion! Most of those benefits do not roll over, so that's a lot of money the insurance companies keep. In order to make sure you take full advantage of your benefits from Anthem or Delta Dental, get an early start. The year is young, so now is the time to start scheduling the dental care you need.
In-Network Coverage
A dentist that is in-network with Delta Dental or Anthem has negotiated pre-set rates for covered services. Therefore, you are likely to receive a lower starting cost. A contract between the dentist and the insurance company means that you will not pay charges exceeding negotiated rates. In addition, there are never any hidden charges; you are only responsible for paying the co-insurance at the time of service and meeting your annual deductible.
What Does Dental Insurance Cover?
Dental insurance plans differ slightly, but most cover all preventive and a portion of restorative dental care. Both Anthem and Delta Dental know that prevention is key to helping you maintain your oral health and holding down the cost of dentistry.
Therefore, your biannual dental cleanings and exams are covered by your insurance. A dental checkup gives the dentist and her staff the chance to clean your teeth and spot problems sooner rather than later. For example, a small cavity can easily be repaired with a tooth-colored filling. Left untreated, however, that small cavity can grow, thereby necessitating a more invasive procedure such as a dental crown or even root canal.
All or a portion of restorative procedures may be covered by your dental insurance benefits. Because they can stop the spread of dental disease, such procedures are often deemed preventive.
To use your Anthem or Delta Dental insurance benefits to the fullest, don't delay the treatment your need. Call a dentist in Bedford today to schedule an appointment.
Meet the Author
Dr. Julia White completed her undergraduate studies at Virginia Tech. She went on to earn her doctor of dental surgery at the Medical College of Virginia through the Virginia Commonwealth University. She enjoys treating the entire family from children to adults. You can learn more about Dr. White and her practice by visiting the website.