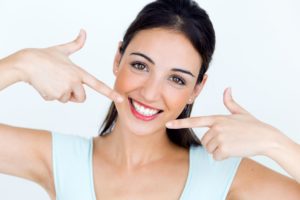 Just because school is out for the summer doesn't mean there isn't plenty to do! There are graduations, weddings, vacations, birthday parties, and more. One thing that these events typically have in common is that many pictures will be taken. If you're not comfortable with the way your smile looks, it can make for some awkward pictures of you grimacing instead of showing off those pearly whites. Fortunately, there are ways to prevent those pictures from being awkward. Let's look at 3 ways that your dentist near Bedford can help get your smile ready for summer.
Porcelain Veneers
If you have stains or cracks in your teeth that make you self-conscious of your smile, porcelain veneers might be the perfect treatment for you. Porcelain veneers are ultra-thin coverings designed to go over the front surfaces of your teeth to hide imperfections. They can easily last more than 10 years, and even up to 20 when properly maintained.
Porcelain veneers take two appointments to complete. First, your dentist will remove a very thin layer of enamel from the front of your teeth to make room for the veneers, and temporary veneers will be placed to get you used to how they feel. Your dentist will then take impressions of your smile and send those to a lab where your permanent veneers will be made. After about two weeks, you will have another appointment where your permanent veneers will be placed, and voila! Your smile is perfect for the summer!
Tooth-Colored Fillings
Cavities used to be filled with metals like silver that didn't resemble teeth in the slightest. These days, we use composite resin to fill the holes left by tooth decay without compromising the natural appearance of your teeth. Your dentist will be able to adjust the shade of the filling, so it matches the exact color of your tooth enamel. In addition, composite resin fillings do not expand and contract when exposed to extreme temperatures like metal fillings do. Your fillings will last many years without anyone even noticing!
All-Ceramic Restorations
Dental ceramic or porcelain is a material that looks, feels, and functions exactly like natural teeth. Even the way it reflects light is identical to regular teeth. However, it is resistant to staining, so your crown or bridge can stay white for years and years.
Crowns and bridges are used to protect or restore damaged teeth, or for filling in the gaps in your smile after tooth loss. A crown is a tooth-shaped cap placed over the affected tooth. When multiple crowns are attached together, it makes up a bridge, which can replace one or more missing teeth. To place a dental bridge, crowns will be attached to the two surrounding teeth to support the crowns that fill the space in between. Because they perfectly resemble natural teeth, no one will even be able to tell that you had dental work done!
With any one of these treatments, your smile can be ready for any pictures that will be taken this summer. You will be able to confidently show off those pearly whites and look back on those memories with a smile!
About the Practice
At Hendricksen and White Cosmetic & Family Dentistry, we are dedicated to serving all of your dental needs in a comfortable environment. Drs. Ron Hendricksen and Julia White have both completed continuing education hours devoted to cosmetic dentistry so that they can improve your smile on the most modern way they can. To learn more click here or call (540)-587-5707.