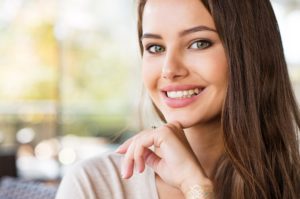 You can't put a price on the benefits of an attractive smile, but few people have perfect teeth naturally. Whether from genetics, trauma, or poor dental health, you can turn the smile of your dreams into reality without needing complex procedures. Here are 3 minimally invasive cosmetic treatments for a picture-perfect smile. 
1. Porcelain Veneers
If you're embarrassed by several imperfections, porcelain veneers correct many issues simultaneously. A veneer is a thin shell that's bonded to the front side of a tooth to improve its color, size, and shape. When applied to the teeth visible when smiling, veneers provide significant results by resolving stains, chips, gaps, and other flaws.
A small amount of your enamel will need to be removed during the application process to ensure the best results, but your dazzling new smile will be complete in 2 appointments. You won't need to undergo multiple or invasive treatments to achieve results that can last for a decade or longer with the correct care, like brushing and flossing.
2. Teeth Whitening
Your teeth can get up to 8 shades whiter with a professional whitening treatment. You can enjoy nearly instant results with an in-office solution. After placing a protective barrier on your lips and gums, your dentist will apply a highly concentrated whitening agent to your teeth, which is activated using a special dental light. You will have the results you want in about an hour.
You can also achieve in-office results from the comfort of your home. Your dentist can provide you with everything you need to whiten your teeth without leaving your couch. You'll use the kit daily for about 2 weeks. No matter the method, your pearly whites can stay their brightest for several months or years, depending on your aftercare, like limiting your coffee consumption.
3. Cosmetic Dental Bonding
Cosmetic bonding offers a lot of bang for your buck. A composite resin is shaded to the color of your enamel to blend in with your tooth when fixing minor aesthetic issues, like decay, chips, and cracks. Depending on the number of teeth you're treating, you can have stunning results in 30 to 90 minutes. Dental bonding can last for many years with good oral hygiene and regular care from your dentist.
You have more options than ever before to address common aesthetic flaws. There is a solution to fit your timeline and budget that won't involve extensive dental work. With an attractive smile attributed to youth, confidence, and success, it's a smart investment to boost your confidence and look your best.
About Dr. Julia White
Dr. Julia White attained her dental degree from the Medical College of Virginia and has regularly pursued continuing education to treat the most complex dental cases. She is an active member of several professional organizations, including the American Dental Association and the Virginia Dental Association. Request an appointment through our website or call (540) 874-2164.